What is Avenir?
Basic Principle
01Self-Affirmation

The child will learn to pave their own future path. Learn to affirm their own existence and cultivate a self-affirmation so they can accept for themselves, allowing them to choose and act with confidence.

02Safety and security first

We will help the children and their families to grow a closer and firm tighter bond so the family members can feel at ease. The child will be able to grow healthy physically and mentally in a homely and relaxing childcare environment.

03Global Language Ability

In response to the advancement of an internationalized society, the child will naturally acquire "the communicative power between people" through childcare, which is important in our daily lives.

04"Always and Forever",Their Land of Adoption

Anyone who has grown up as a child has a nostalgic experience of places, people, or things. It is because a hometown where you are always welcomed with a warm smile that makes you want to stop by and remember it. The school will also be a place to continue challenging new things and connecting to the future.
Features
About Us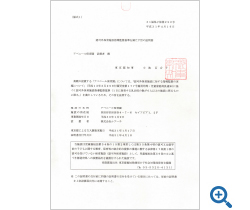 Avenir Nursery is a Nursery that Meets the Guidance and Supervision Standards for Non-Licensed Childcare Facilities in Tokyo.
From 2018 the current year, through the intermittent survey of non-authorized facility, our nursery has received a certificate that conforms to on-site survey for supervision standards .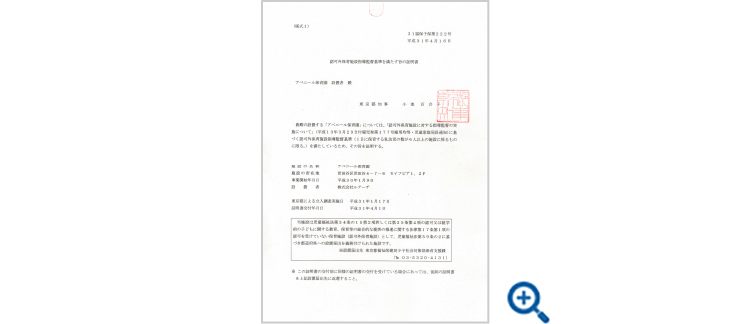 About Equipment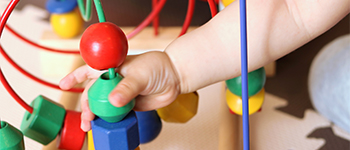 Nursery Room
A floor heating system, a commercial humidifier, a commercial air cleaner and a universal design toilet are installed on each floor at a newly built tenant.
This is a daycare room where everyday is a clean and exciting day for both children and adults.
We have a medical office for children to use when they are not feeling well, and a waiting room is available so that parents can talk in a calm enviroment.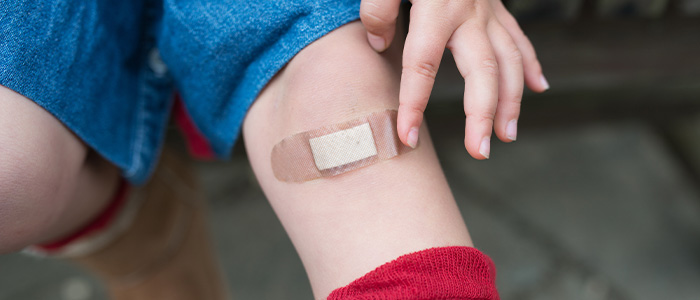 Insurance
The school has liability and accident insurance for the children in its care, as well as the Disaster Mutual Aid Benefit Scheme of the Japan Sports Promotion Centre (JSPS).
Physical examination and Health management
Spring and autumn health checkup will be conducted to ensure that your child's physical condition is well managed.
Please be assured,our staff will take your child immediately to the hospital listed below for a medical examination If your child shows any unusual symptoms during childcare time.We are also equipped with an AED (automated external defibrillator) in case of emergencies.
Nursery Doctor
Pediatrics in the Neighborhood
・Pediatrics Tsuda Pediatrics Clinic
An Urgent medical (family medical consultation) is also available for children. Medical consultations for children are being available weeknights from 19:00 to 23:00. If a consultation is needed ,the doctor also visits your home.
1. Consult with us about health-related concerns at night.
2. Medical professionals give advice and inform you of nearby emergency hospitals.
3. If a medical examination of the doctor is needed , we offer you the option of calling a doctor to your home.
4. If you have a prescription, a pharmacist can deliver it to your home the next morning.
Please feel free to use if you have any concerns about your child.
https://fastdoctor.jp/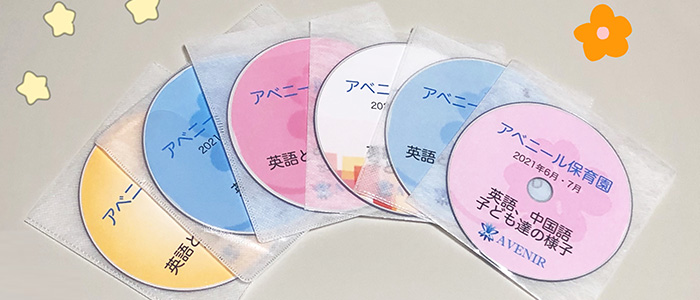 Providing a DVD containing daily routine in nursery school
In addition to the daily routine at the nursery, we provide DVD in which the events in the nursery.
Along with the daily routine, please enjoy watching the English and Chinese curriculum at home through the childcare provided in the nursery.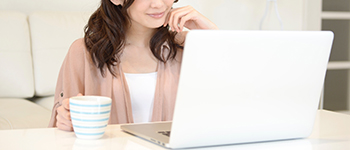 Web Camera
It is possible to check on your child even out of your sight, so you can watch your child's growth when you entrust your kids to us.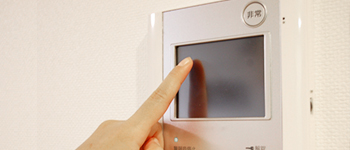 System to protect your child from danger
Avenir has camera intercoms installed in the premises, which unlock the auto-locks until visitors have been identified.
Please be assured that the entire nursery is also equipped with SECOM as a security system.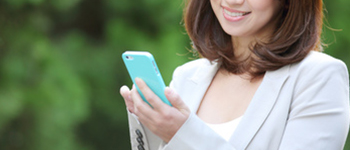 Using smart phones and tablets for communication.
It is possible to check how things are going at the nursery anytime, anywhere with just one smart phone. It can also make individual contacts, and communicate more closely with each other,even without a hand written notebook.Parents and teachers also keep close communication about their child through it and at the time of pickup and drop-off.
About CODMON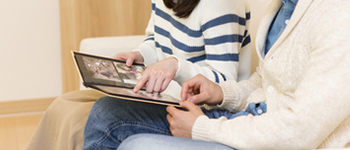 Photographs of Children
Our staf capture the precious moments of daily life and precious expressions at events.
Photos can be purchased from the Codmon application.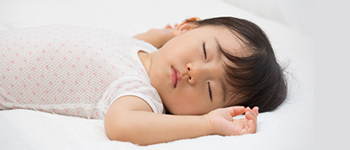 About Bedding
At the age of 0, children begin to turn over and move around actively. The mattress is made of firm cotton, which does not hinder growth , stable and prevents sinking so that it can supports the child's weight. Sheets are made of quilted pads. At the age of 1 and 2,they use a cot bed which always clean and secure and reduces the risk of prone sleeping. Bad sheets and comforter are also available at the nursery.
*You can also use your own sheets and quilts.
About Staff
All Staff Have or Soon to Acquire a Childcare Qualification or Childcare Supporter.

1st Floor
1 Year Old
By accumulating "along with English" and "along with Chinese" the children can gradually work on English and Chinese as a curriculum.
The words absorbed through the ears of the children also promote the growth of a two-year-old child who enjoys having a conversation.
2nd Floor
0 Year Old
Infancy is the most important time to build the foundation of your mind. Based on that foundation, we will establish basic lifestyles in a fun everyday life. Among them, we will implement "…while in English" and "…while in Chinese" that are suitable for infancy, and naturally learn the global language at this time where absorbing by listening is the fastest.
2nd Floor
2 Years Old
Experienced nursery teachers are also assigned to strengthen the educational element, a curriculum of childcare + education is created through teamwork between staff members and many experiences are enjoyed, moved, and interacted with in everyday life and play. We will watch over and assist the children so that they can absorb these feelings.
* Currently, we are not recruiting infants (3 to 5 years old).
Mixed-age Childcare
Small children learn from admiring and imitating older children, and the older children are happy and of the thing that is helpful for somebody.That leads them to take leadership.
This precious experience can only be concentrated during the nursery school days.
At Avenir, we will also introduce mixed-age childcare to nurture the mind in a "society called children" and develop the ability to survive in the future.
*We also carry out activities according to age-specific development.
About Food Education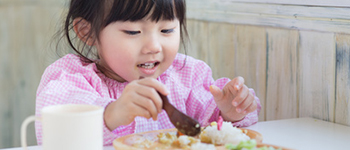 It is said that Meals during Early Childhood have a Great Influence on the Later Development of Personality and Growth.
Dishes and treats created with affection will not only help children to develop healthy bodies, but also enrich their hearts and senses.
Under the supervision of nutritionist, we provide food and snacks with the nutritional value that suits the growth of children by preparing selected seasonal ingredients.We also provide snacks.
We will monitor the children during school lunch and will inform families of the education.
(Food composition table and detailed nutritional value are also available.)
In addition, based on the school environmental hygiene standards, our nursery conducts and records water quality tests for appearance, odor, taste, etc. before and after cooking.
*The fun menu is a menu that the chef occasionally provides as a surprise so that children can enjoy it!
Packed with Unique and Exciting Events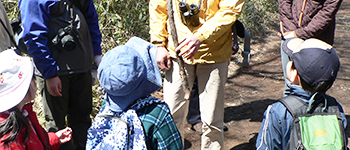 Annual Events to be possible only in our kindergarten!
Lots of sightseeing and interesting activities!
Our staff plan many fun activities and events through a year proactively for children.We emphasize to plan them to use and absorb all of their senses, and enjoy them together.Our staff also face each other and enjoy 100%.School lunches with local dishes from the staff's hometowns and the school's original annual events. Starting with a rice cake pounding event with a sumo wrestler, BBQs, strawberry picking, etc…
The two-years-old even go on bus trips with their friends.We hope that the smiles of the adults will bring smiles to the children and that the children's smiles will blossom at home.
*Events are subject to change depending on the situation. No event fees are charged for annual events.
Avenir
Helping Out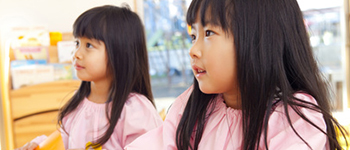 You will be welcomed at the nursery with high energy.
First of all, we start the day with a smile for your children and family.
What if my child cries today…I wonder if I can go to work with peace of mind?
It's okay. We are waiting for you with a warm smile so that the child would want to talk about what happened today on the way home even if they were crying in the morning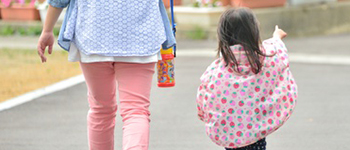 Easy Empty-handed Assembly
In our nursery change of clothes, diapers, meals, sheets, etc., are all prepared by the nursery.
Balancing work, housework and childcare. We hope your everyday life will be a little easier and you will have a happy time with your child at home…
Click here for further details
Courier service, Shopping service, Cleaning service
The staff of Avenir Nursery (Avenir Support Group) will receive/deliver the courier service, shopping (Summit Store Matsuin Shrine Entrance Store/Create Setagaya 4 Chome Store only) and cleaning (Swallow Chain Shoin Shrine Entrance Store) on your behalf.
Please use the support service to spend a meaningful time at home, such as those who are busy and unable to spare the time.
Please contact us for details.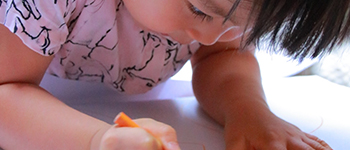 Other
We will do our best to meet requests such as "I like a handwritten contact book." "I want to bring my children diaper home with me to check her/his health."
Please feel free to contact us.
Greetings
Avenir
– French for Future
Thank you for visiting the homepage of Avenir Nursery.
What kind of image do you have of a nursery school?
For example, a place where do toilet training for children and even cut the nails.
For example, a place that never let child be injured.
For example, a place that teaches words and letters.
Is it true?
It is believed that in nursery schools, all children play a leading role, and adults watch over them.
From large families to elementary families, basic family forms has changed, urbanization has progressed, and consultations with family members have increased year by year.
In proportion to this, society has moved to the labor problems of nursery teachers, and the environment surrounding nursery schools has changed rapidly in recent years.
What kind of smile will your child have in the future?
A childlike "child" who could climb trees, run around, get muddy and getting a little injured.
If they do something wrong then the teacher will get angry at them, they get scared and become unable to tell their parents as well.
Nowadays, there are many children who have fewer opportunities to walk, children who can not climb the stairs and there is no opportunity to move their limbs, There is a surprising number of children who are unable to use exercise mats due to a decrease in their limbs' motility.
Along with that, a decrease in immunity has become a problem. Hasn't it become a convenient society and that's overprotective?
What should I cherish?
What will cultivate their ability to survive even in the future?
Our society and work are unstable in the present world, and we have a strong willingness to adapt and respond positively to new things that are coming out one after another.
When we go out into society, we want to raise "a child who can respond firmly".
Avenir nursery school meets the needs of diversified societies, and at the same time, we are able to provide the original Japanese home to the nursery school.
The children that are important to you are all cute children that are also important to us.
Together, let's watch over the children growth.
The Meaning Behind the Logo Mark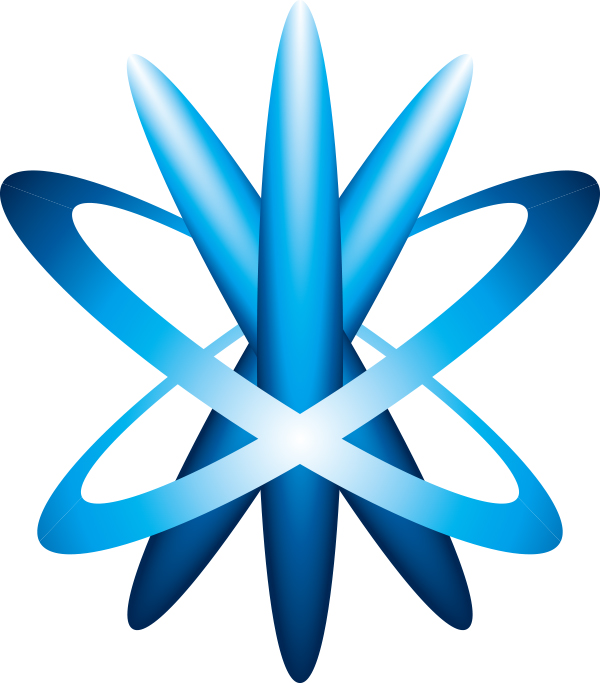 Logo Mark with the Concept of the Future
The Meaning Behind the Logo Mark
The logo is a three-dimensional, advanced image logo mark that combines three streamlined columns and an elliptical ring.
It is a logo design that expresses growth and development under the theme of future and space. The three pillars are designs that image the past, present, and future. The ellipse surrounding the three pillars is designed with a small heart and a large heart. The upper heart is enlarged so that the small heart below becomes a big heart for the future. The heart is a design that expresses the wishes of people. It is a logo mark that shows great potential for the future.